Samsung QM43C

Dynamic Crystal Color UHD Digital Signage for Business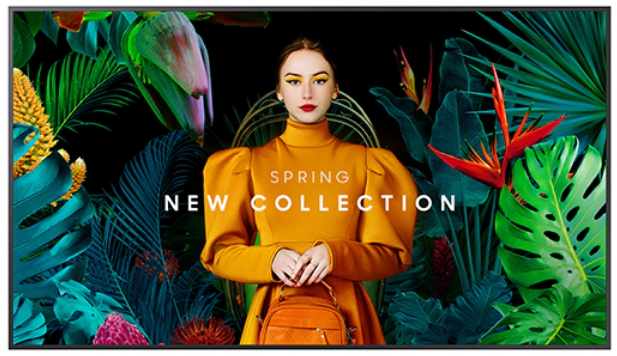 Samsung Products
QM-C Series
#QM43C
Our Price: $1,090.00
Overview:
Introducing the QMC series, the slimmest display in the Samsung's UHD signage offerings. This products deliver an unparalleled slim design that fits into any business, while delivering the visual quality to make a big impact. The sleek form factor is easily installed to fit any room design and delivers stunning visual performance. Dynamic Crystal Color and Quantum Processor Lite 4K delivering consistent, lifelike colors to any content. This is not just a display for simple advertising. It's a display that brings the solutions, tools, and picture quality to grow to your business, no matter what industry you're in.
QMC, slimmest display in Samsung's UHD Signage, ultra-slim 28.5mm depth optimizes space.
Dynamic Crystal Color, over one billion shades, delivers an immersive viewing experience.
Industry-leading technology, powered by Quantum Processor Lite 4K, enhances content for clarity and consistency.
SmartView+ enables wireless screen sharing makes collaboration easy and functional.
Maximum impact in minimum space
Ultra Slim Depth
The QMC's unparalleled ultra-slim 28.5 mm depth makes it the thinnest option in Samsung's UHD series. It is compatible with a Slim Fit Wall Mount, which allows you to install it neatly and easily in any location. QMC optimizes space with its sleek design that blends seamlessly into your business environment.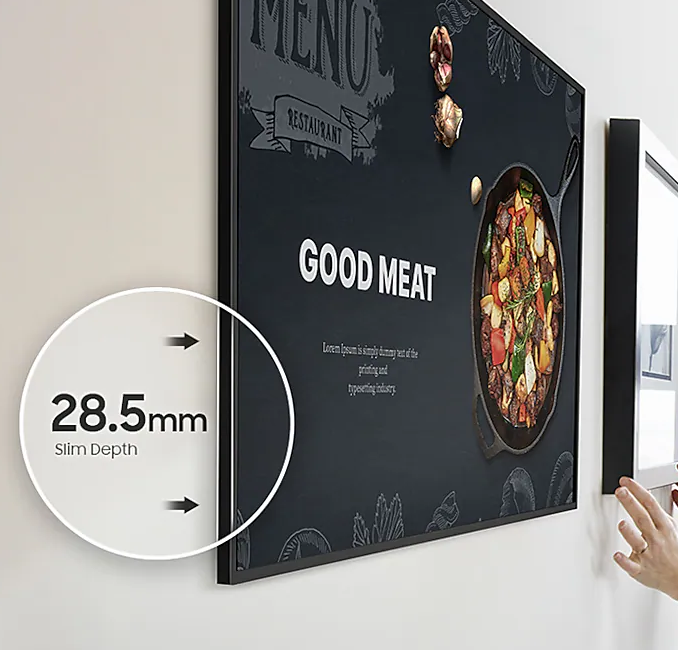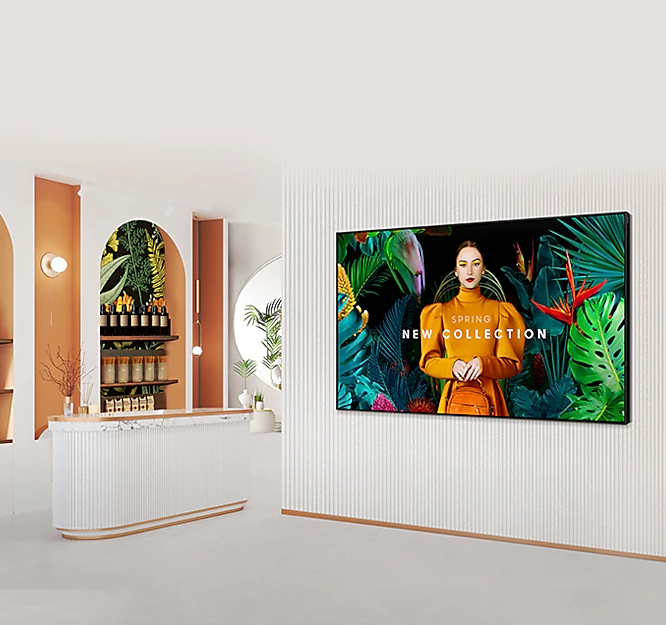 Slim design. Stunning performance.
Elegant UHD Signage - QMC Series
Introducing QMC, the slimmest display in the Samsung UHD Signage. It brings elegance to your business display while maximizing space. Its enhanced internal solutions and intuitive home screen UX make it easy to use. Businesses in various verticals can achieve growth with QMC's efficiency and design innovation.
Clean visuals in landscape or portrait mode
Uniform Bezels
The bezels are consistent and even on all four sides of the display, with the same thickness and dimensions. The uniform design allows for visual consistency when the display is adjusted to portrait mode.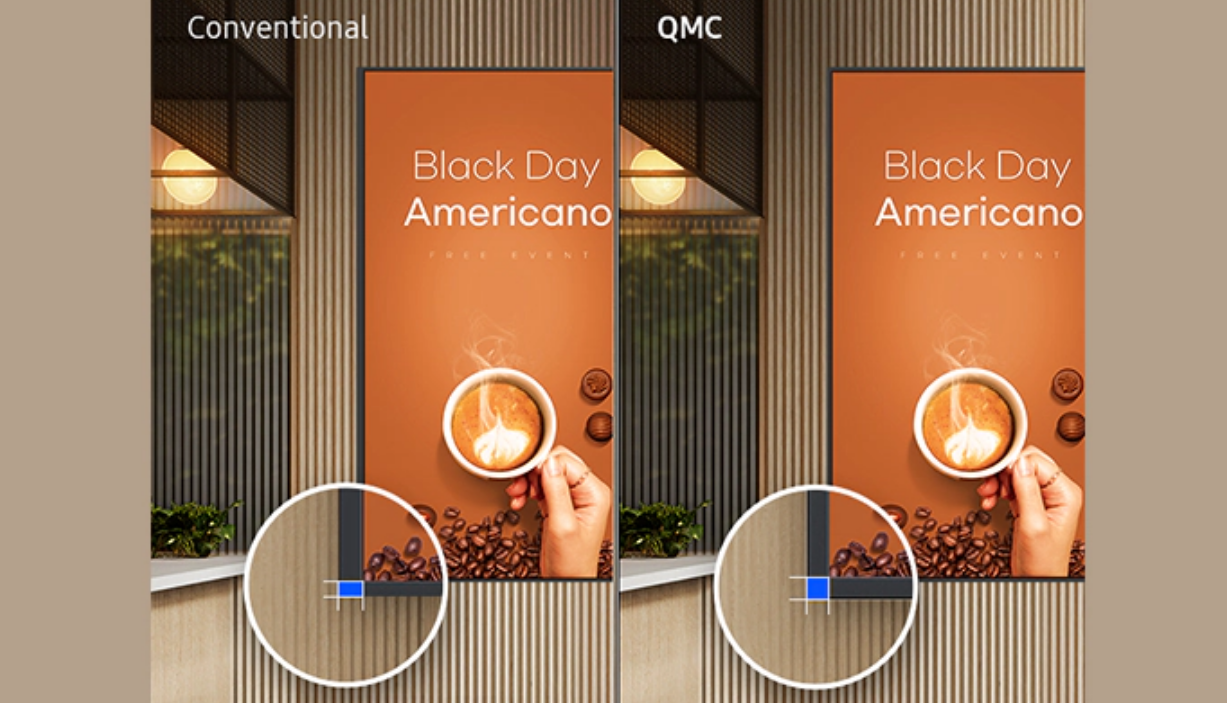 Secure and even mounting
Centered VESA Holes
The central positioning of the VESA holes on the back of the display enable the weight to be evenly distributed for secure mounting. With the VESA holes now shifted to the center, users can adjust the display to portrait mode, while avoiding unintentional tilting.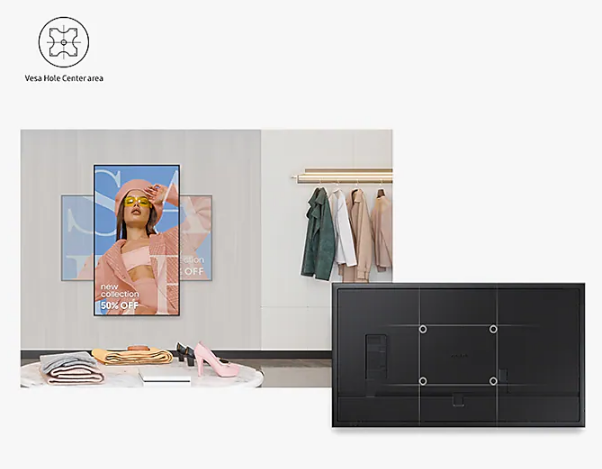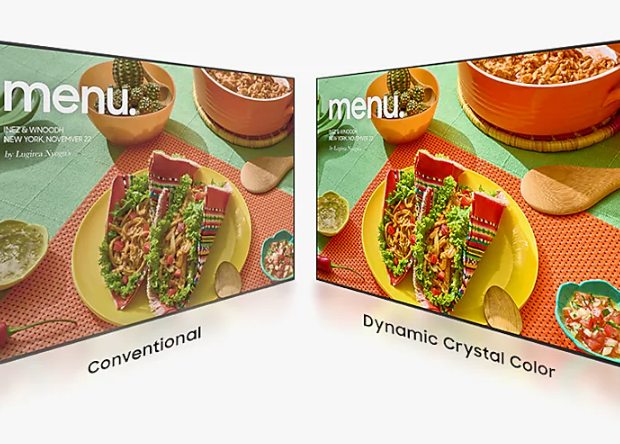 Lifelike color for a pure, immersive viewing experience
Dynamic Crystal Color
Every picture is more immersive with one billion shades of color. Dynamic Crystal Color delivers true-to-life variations, allowing customers to see every subtlety.
View lifelike shades of color in powerful 4K
Quantum Processor Lite 4K
Samsung's industry-leading video processing technology enhances every piece of content for clarity and consistency. Intelligent UHD upscaling technology, powered by Samsung's Quantum Processor Lite 4K, elevates lower-resolution video to UHD, providing a professional picture quality.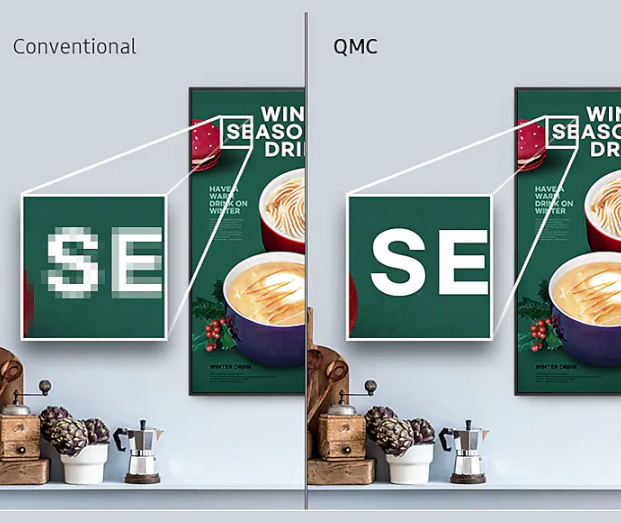 Ensure critical information is always visible
Non-glare
QMC displays feature reliable, non-glare panels that provide better visibility from all angles, any time of day. The non-glare display enables businesses to deliver accurate information in crucial locations, such as airports and train stations.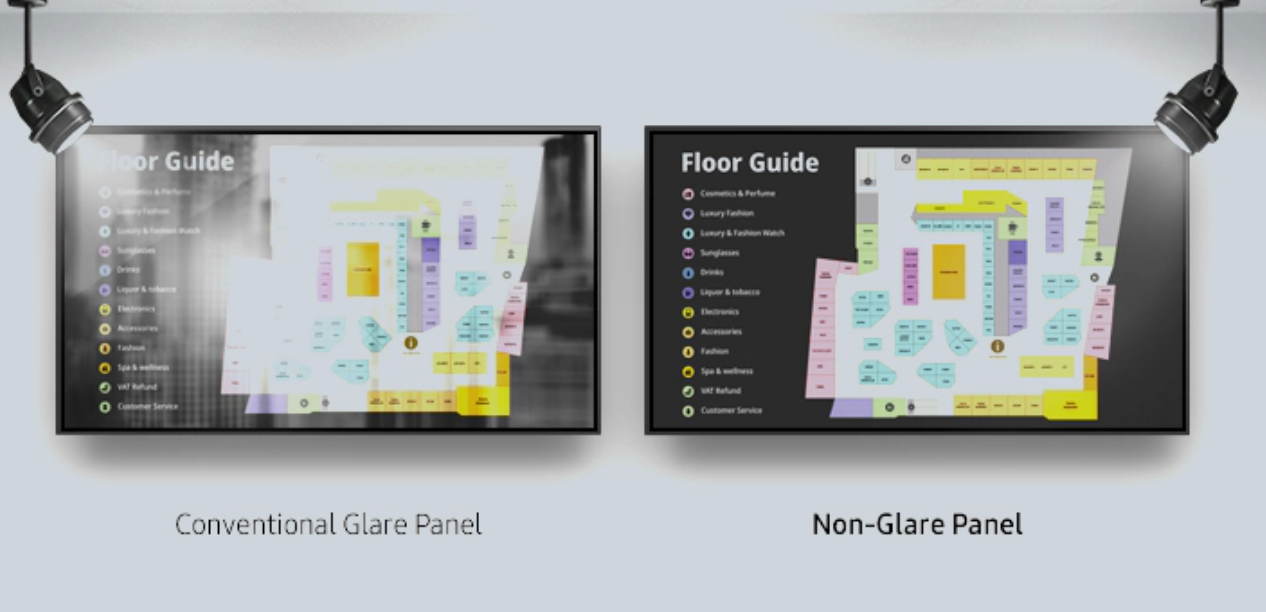 Connect with convenience
Home UI.QMC boasts greater usability with an upgraded home screen UI. For the ultimate convenience, popular categories such as Favorites, Sources, and Settings are displayed on the home screen, all available in one place. The Favorites folder grants users quick, easy access to frequently used features in a single click.
High-speed collaboration between screens, all wire-free.
Smartview+.SmartView+ enables wireless screen sharing without cable connections, ensuring easy collaboration. Users can enable the screen sharing function at the start of the meeting, allowing administrators to switch which screens are shared with no wires necessary.
Simplified calibration between screens with mobile app
Smart Calibration.Guaranteed brand consistency across every display in every location. Using the Samsung mobile app, Smart Calibration ensures accuracy for every display, with precise calibration that showcases logos and other collateral in the exact brand colors, as required.
Change your approach to display management
Samsung VXT.Samsung VXT CMS is a cloud-based solution that brings together content management and remote device management capabilities, allowing users to remotely manage hardware settings and troubleshoot issues while effortlessly creating and deploying content with no previous training needed.
Everyday Sustainability
Energy Star / EPEAT / TÜV Rheinland Carbon Footprint.Samsung is engaged in multiple efforts to reduce our environmental impact in smart signage. We encourage our users and customers to pursue a more sustainable life, as well. As a result, QMC series has earned a series of certifications for environmentally preferable products from highly recognized organizations in Germany and the U.S.
Specifications:
QM43C

QM50C

QM55C

QM65C

QM75C

QM85C

Panel

Diagonal Size

Class

43"

50"

55"

65"

75"

85"

Measured

42.5"

48.5"

54.6"

64.5"

74.5"

84.5"

Resolution

UHD (3840 x 2160)

UHD (3840 x 2160)

UHD (3840 x 2160)

UHD (3840 x 2160)

UHD (3840 x 2160)

UHD (3840 x 2160)

Brightness(Typ.)

500

500

500

500

500

500

Orientation

Landscape/Portrait

Landscape/Portrait

Landscape/Portrait

Landscape/Portrait

Landscape/Portrait

Landscape/Portrait

Haze

25%

25%

25%

25%

25%

25%

Contrast Ratio (Typ.)

4000:1

4000:1

4000:1

4000:1

4000:1

4000:1

Type

VA/IPS

VA/IPS

VA

VA

VA

VA

Active Display Area

941.184 (H) x 529.416 (V)

1,095.84 (H) x 616.4 (V)

1,209.6 (H) x 680.4 (V)

1,428.48 (H) x 803.5 2(V)

1,650.24 (H) x 928.26 (V)

1,872.0 (H) x 1,053.01 (V)

Pixel Pitch (mm)

0.245 x 0.245

0.285 x 0.285

0.315 x 0.315

0.372 x 0.372

0.429 x 0.429

0.487 x 0.487

Color Gamut

NTSC 72%

NTSC 72%

NTSC 72%

NTSC 72%

NTSC 72%

NTSC 72%

Operation Hour

24/7

24/7

24/7

24/7

24/7

24/7

Connectivity/Sound

Input

VIDEO

DP 1.2 (1), HDMI 2.0 (3)

DP 1.2 (1), HDMI 2.0 (3)

DP 1.2 (1), HDMI 2.0 (3)

DP 1.2 (1), HDMI 2.0 (3)

DP 1.2 (1), HDMI 2.0 (3)

DP 1.2 (1), HDMI 2.0 (3)

AUDIO

N/A

N/A

N/A

N/A

N/A

N/A

USB

USB 2.0 x 2

USB 2.0 x 2

USB 2.0 x 2

USB 2.0 x 2

USB 2.0 x 2

USB 2.0 x 2

Output

VIDEO

N/A

N/A

N/A

N/A

N/A

N/A

Audio

Stereo Mini Jack

Stereo Mini Jack

Stereo Mini Jack

Stereo Mini Jack

Stereo Mini Jack

Stereo Mini Jack

USB

USB 2.0 x 2

USB 2.0 x 2

USB 2.0 x 2

USB 2.0 x 2

USB 2.0 x 2

USB 2.0 x 2

External Control

RS232C (In/Out) , RJ45

RS232C (In/Out) , RJ45

RS232C (In/Out), RJ45

RS232C (In/Out), RJ45

RS232C (In/Out) , RJ45

RS232C (In/Out) , RJ45

Speaker

10W 2ch

10W 2ch

10W 2ch

10W 2ch

10W 2ch

10W 2ch

Wi-Fi / BT

O/O

O/O

O/O

O/O

O/O

O/O

Mechanical

Spec

Dimension (mm / inch)

969.5 x 557.8 x 28.5

1,124.1 x 644.8 x 28.5

1,237.9 x 708.8 x 28.5

1,456.8 x 831.9 x 28.5

1,682.3 x 960.4 x 28.5

1,904.3 x 1085.3 x 28.5

VESA Mount

200 x 200

200 x 200

200 x 200

400 x 300

400 x 400

400 x 400

VESA Mount Screw (Min~Max)

M8, 12~14mm

M8, 12~14mm

M8, 12~14mm

M8, 12~14mm

M8, 12~14mm

M8, 12~14mm

Bezel Width (mm)

11.5 (Even)

11.5 (Even)

11.5 (Even)

11.5 (Even)

13.4 (Even)

13.9 (Even)

Features

Key

UHD Signage with Built-in MagicInfoS10, SSSP 10.0

Special

Hardware

2nd Gen. B2B Design Center IR Temperature Sensor Ambient Sensor Auto Level Wi-Fi (2.4/5.0GHz dual) and BT

Software

Signage New Home Workspace (Microsoft371/VMWare/RDP) Custom Home Auto Source Switching and Recovery Dicom Simulation Mode Director Mode SmartView+ Upgradable Web-Engine Tizen Enterprise Platform Video Conference Solution Smart Calibration

Internal Player (Embedded Hardware)

Processor

CA73 1.6GHz Quad-Core

Storage (FDM)

16GB (10GB available)

Operating System

Tizen 7.0 7

Power

Power Supply

AC 100 - 240 V, 50/60 Hz

AC 100 - 240 V, 50/60 Hz

AC 100 - 240 V, 50/60 Hz

AC 100 - 240 V, 50/60 Hz

AC 100 - 240 V, 50/60 Hz

AC 100 - 240 V, 50/60 Hz

Sleep Mode

less than 0.5W

less than 0.5W

less than 0.5W

less than 0.5W

less than 0.5W

less than 0.5W

Operation

Operating Temperature / Humidity

0℃~ 40℃ / 10~80%

0℃~ 40℃ / 10~80%

0℃~ 40℃ / 10~80%

0℃~ 40℃ / 10~80%

0℃~ 40℃ / 10~80%

0℃~ 40℃ / 10~80%

Certification

Safety

60950-1/62368-1

EMC

Class B

Class A

Environment

ENERGY STAR 8.0, EPEAT

IP Rating

IP5x

Security

802.1 x (WPA2 Enterprise): EAP-TLS, EAP-TTLS, EAP-PEAP

Accessories

Included

Quick Setup Guide, Warranty Card, Power Cord RS232C (In) Gender Remote Controller and Batteries

Optional

Stand

STN-L4355F

STN-L4355F

STN-L4355F

STN-L6585C

STN-L6585C

STN-L6585C

Mount

WMN-B50SC

WMN-B50SC

WMN-B50SC

WMN-B50SC

WMN-B50SC

N/A
Pricing Notes:
Pricing and product availability subject to change without notice.
On-site Warranty includes:

Next Business Day exchange of the display
Includes on-site tech-assisted exchange of display
Technician removes original unit, installs replacement, and ships non-working unit to Samsung
Coverage for mechanical/electrical breakdown
3,4,5 year terms available
Samsung Products
QM-C Series
#QM43C
Our Price: $1,090.00