Samsung 690U Series 55" 4K Hospitality TV

Brilliant 4K picture quality and convenient room management that enable guests to enjoy the comforts of home.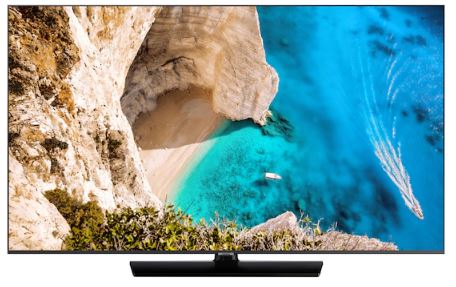 Samsung Products
Samsung 690U Series
Samsung 690U Series 55 in. Luxury 4K UHD Hospitality TV for Guest Engagement
#HG55NT690UFXZA
Our Price: $810.00
Overview:
Samsung's 690U Series SMART Hospitality TVs empower hotel management to enhance communication with guests and better cater to their needs, while also putting more power into the hands of the guests themselves. Guests can control their room environment right from the remote, for maximum comfort. They can push content from their personal devices to the big screen. And the viewing experience is unsurpassed, with 4K UHD resolution and exceptional color and clarity.
4K UHD resolution plus HDR10+ picture technology for a truly first-class guest TV viewing experience
Improved H.Browser allows greater flexibility for content development
Conveniently manage content with Samsung LYNK REACH® 4.0
Seamlessly integrate smart devices into your management system with Samsung LYNK® HMS
Features: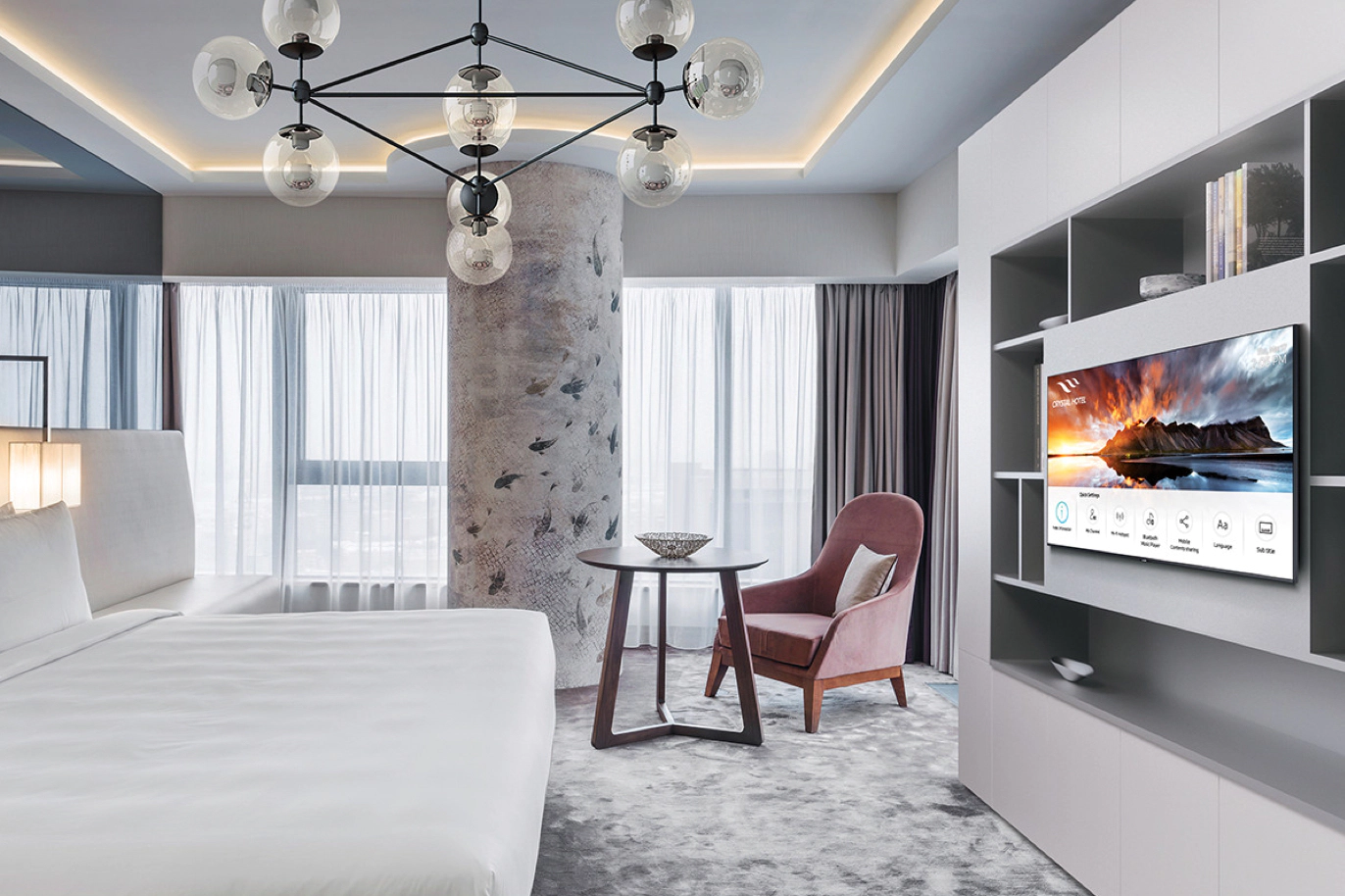 4K UHD Resolution Delivers a Breathtaking Experience
Deliver the unmatched, luxury experience your guests expect with 3840 x 2160 4K UHD resolution. Offering four times the pixels of Full HD, the 690U Series showcases movies, property content and partner advertisements in stunning, lifelike detail.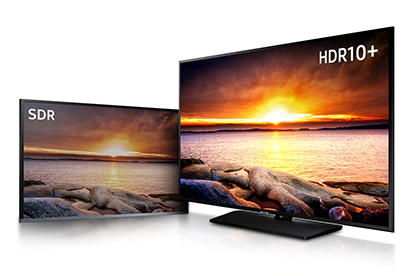 HDR10+ Picture Technology for Incredible Depth
4K UHD delivers more pixels, and HDR10+ gets the most out of every one. Color is richer. Light and dark scenes are more balanced. Contrast is expanded, for greater picture depth and nuance. Every guest experience with the 690U Series will be an incredible one.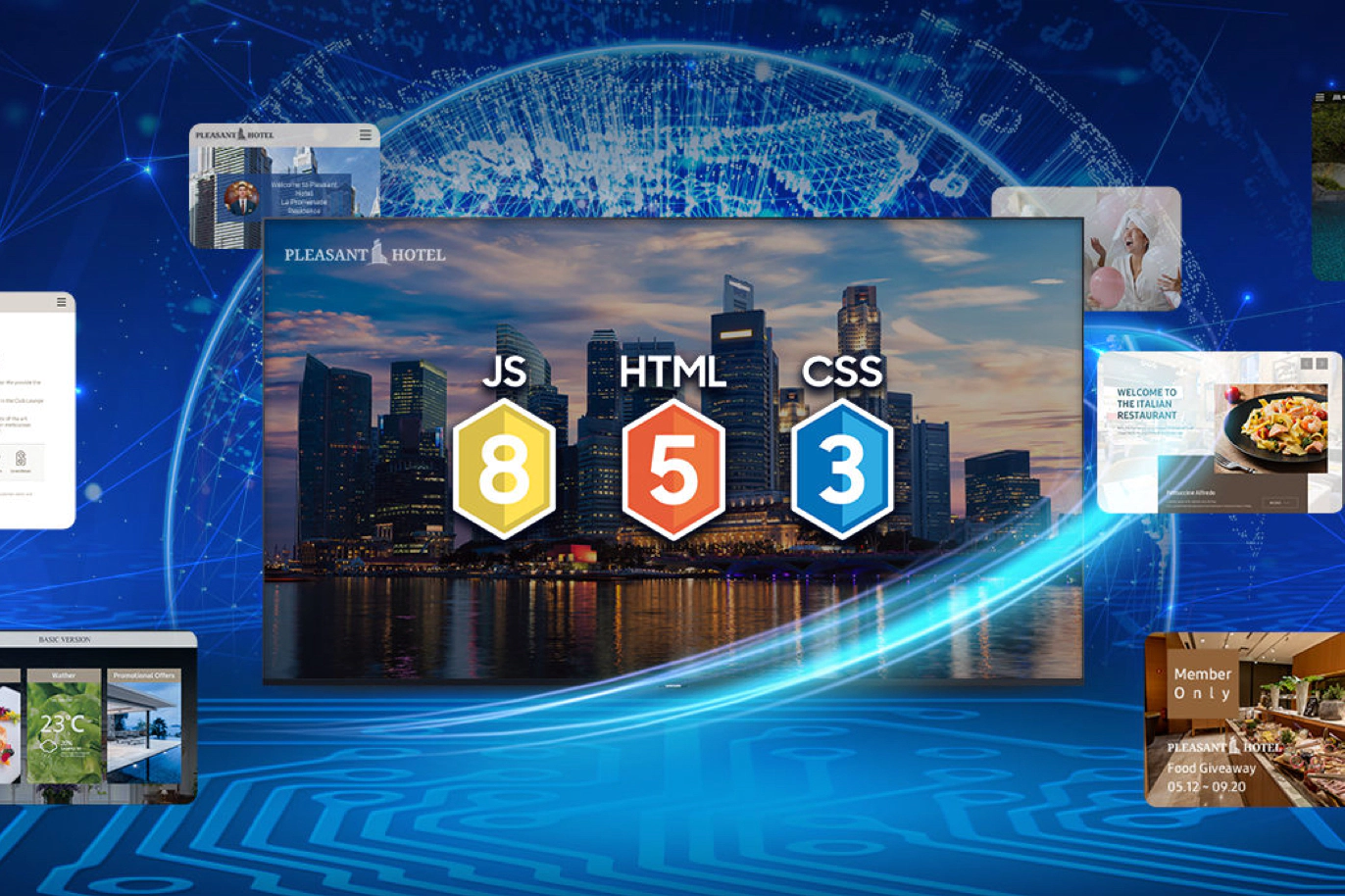 Improved H.Browser for More Streamlined Operations
Samsung's H.Browser allows greater flexibility for content development. System integrators have the opportunity to create even smarter hospitality solutions.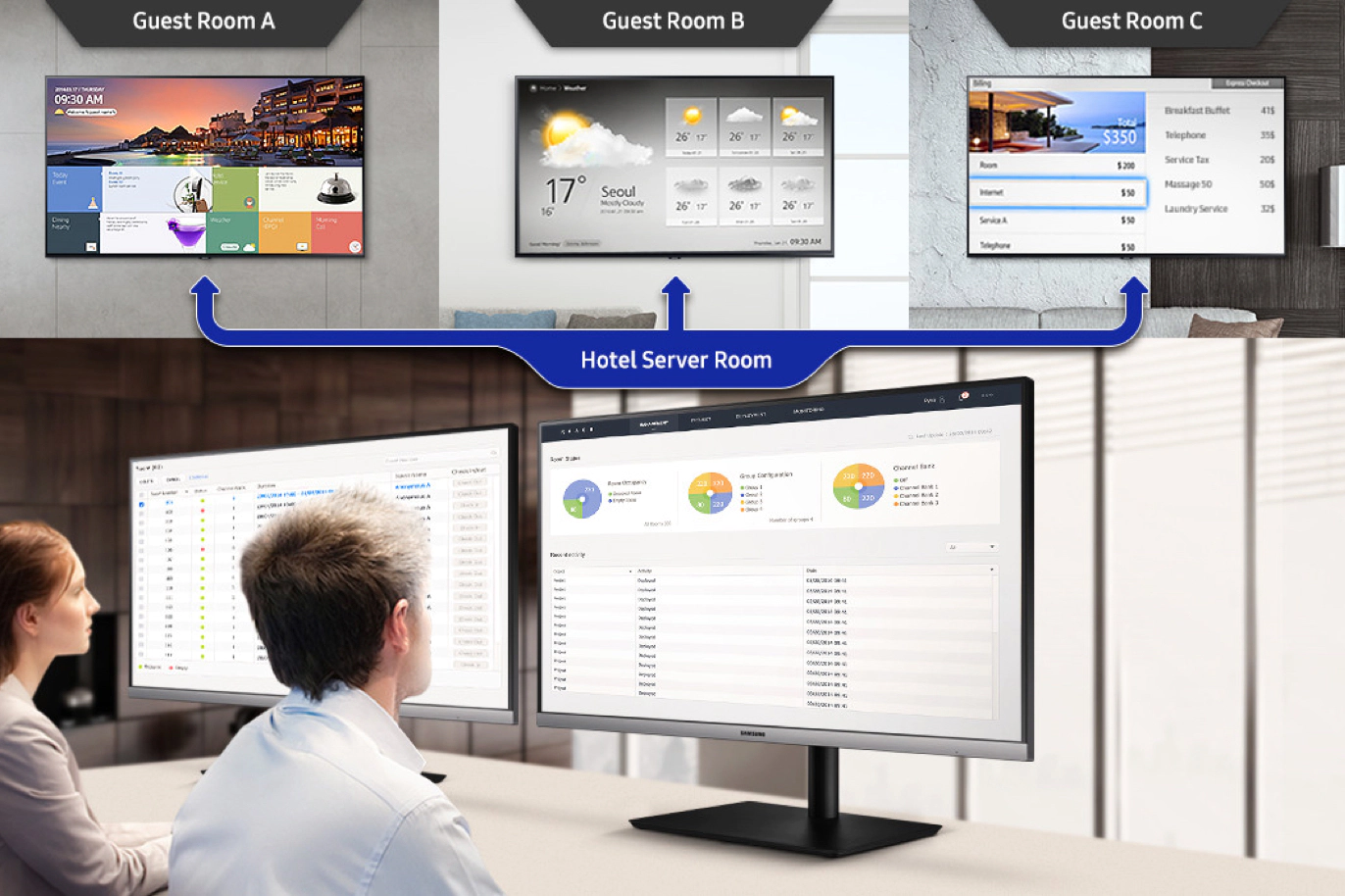 Samsung LYNK REACH 4.0 Content Management Solution
Samsung's LYNK REACH 4.0 is a complete content management solution that accommodates coaxial, LAN and Wi-Fi infrastructures to amplify hotel management, monitoring and guest service functions. LYNK REACH 4.0 enriches the guest experience with efficiency-enhancing technology that transforms the in-room display into a comprehensive digital experience.
Specifications:
43" - HG43NT690UFXZA

50" - HG50NT690UFXZA

55" - HG55NT690UFXZA

65" - HG65NT690UFXZA

75" - HG75NT690UFXZA

Display

Backlight

LED

LED

LED

LED

LED

Screen Size (Diagonal)

43"

50"

55"

65"

75"

Resolution

3840 × 2160

3840 × 2160

3840 × 2160

3840 × 2160

3840 × 2160

Audio

Dolby Digital Plus

Yes

Yes

Yes

Yes

Yes

Sound Output (RMS)

20W

20W

20W

20W

20W

Speaker Type

2CH

2CH

2CH

2CH

2CH

Video

Auto Motion Plus

Yes

Yes

Yes

Yes

Yes

Color

PurColor

PurColor

PurColor

PurColor

PurColor

Film Mode

Yes

Yes

Yes

Yes

Yes

Contrast

Mega Contrast

Mega Contrast

Mega Contrast

Mega Contrast

Mega Contrast

Contrast Enhancer

Yes

Yes

Yes

Yes

Yes

Film Mode

Yes

Yes

Yes

Yes

Yes

HDR (High Dynamic Range)

HDR

HDR

HDR

HDR

HDR

HDR10+

Yes

Yes

Yes

Yes

Yes

HLG (Hybrid Log Gamma)

Yes

Yes

Yes

Yes

Yes

Motion Rate

120

120

120

120

120

Natural Mode Support

Yes

Yes

Yes

Yes

Yes

Picture Engine

UHD Mastering Engine

UHD Mastering Engine

UHD Mastering Engine

UHD Mastering Engine

UHD Mastering Engine

PQI (Picture Quality Index)

1300

1300

1300

1300

1300

Viewing Angle (H / V)

178/178

178/178

178/178

178/178

178/178

Input & Output

HDMI (Side / Rear)

3/0

3/0

3/0

3/0

3/0

USB (Side / Rear)

2/0

2/0

2/0

2/0

2/0

Composite In (AV) (Side / Rear)

1 (Common Use for Component Y)

1 (Common Use for Component Y)

1 (Common Use for Component Y)

1 (Common Use for Component Y)

1 (Common Use for Component Y)

PC In (D-sub) (Side / Rear)

No

No

No

No

No

PC/DVI Audio In (Mini Jack) (Side / Rear)

No

No

No

No

No

RF In (Terrestrial / Cable input) (Side / Rear)

1/1 (Common Use for Terrestrial)/0

1/1(Common Use for Terrestrial)/0

1/1(Common Use for Terrestrial)/0

1/1(Common Use for Terrestrial)/0

1/1(Common Use for Terrestrial)/0

Ex-Link (RS-232C) (Side/Rear)

1/0

1/0

1/0

1/0

1/0

HDMI A / Return Ch. Support

Yes

Yes

Yes

Yes

Yes

Wi-Fi

Yes

Yes

Yes

Yes

Yes

Anynet+ (HDMI-CEC)

Yes

Yes

Yes

Yes

Yes

Pillow Speaker Jack (Side / Rear)

No

No

No

No

No

Variable Audio Out (Side / Rear)

0/1

0/1

0/1

0/1

0/1

Variable Audio Out Volume Control (Side / Rear)

0/1

0/1

0/1

0/1

0/1

RJ12 (Side / Rear)

0/1

0/1

0/1

0/1

0/1

Ethernet Bridge (LAN-Out)

0/1

0/1

0/1

0/1

0/1

Features

Accessibility

US English

US English

US English

US English

US English

Auto Channel Search

Yes

Yes

Yes

Yes

Yes

Auto Power Off

Yes

Yes

Yes

Yes

Yes

BT HID Built-in

Yes

Yes

Yes

Yes

Yes

Caption (Subtitle)

Yes

Yes

Yes

Yes

Yes

Connect Share™ (HDD)

Yes

Yes

Yes

Yes

Yes

ConnectShare™ (USB 2.0)

Yes

Yes

Yes

Yes

Yes

Digital Clean View

Yes

Yes

Yes

Yes

Yes

EPG

Yes

Yes

Yes

Yes

Yes

Game Mode

Yes

Yes

Yes

Yes

Yes

IPv6 Support

Yes

Yes

Yes

Yes

Yes

OSD Language

English, Spanish, French

English, Spanish, French

English, Spanish, French

English, Spanish, French

English, Spanish, French

USB HID Support

Yes

Yes

Yes

Yes

Yes

V-Chip

Yes

Yes

Yes

Yes

Yes

Convergence

Mobile to TV - Mirroring, DLNA

Yes

Yes

Yes

Yes

Yes

360 Video Player

Yes

Yes

Yes

Yes

Yes

360 Camera Support

Yes

Yes

Yes

Yes

Yes

Smart TV

Samsung SMART TV

Smart

Smart

Smart

Smart

Smart

Web Browser

Yes

Yes

Yes

Yes

Yes

System

Digital Broadcasting

ATSC/ClearQAM

ATSC/ClearQAM

ATSC/ClearQAM

ATSC/ClearQAM

ATSC/ClearQAM

Analog Tuner

Yes

Yes

Yes

Yes

Yes
Samsung Products
Samsung 690U Series
Samsung 690U Series 55 in. Luxury 4K UHD Hospitality TV for Guest Engagement
#HG55NT690UFXZA
Our Price: $810.00