Samsung QM43R - 43-inch Commercial 4K UHD LED LCD Display, 500 NIT

Display any content in ultra-high definition with incredibly rich color on slim, efficient signage.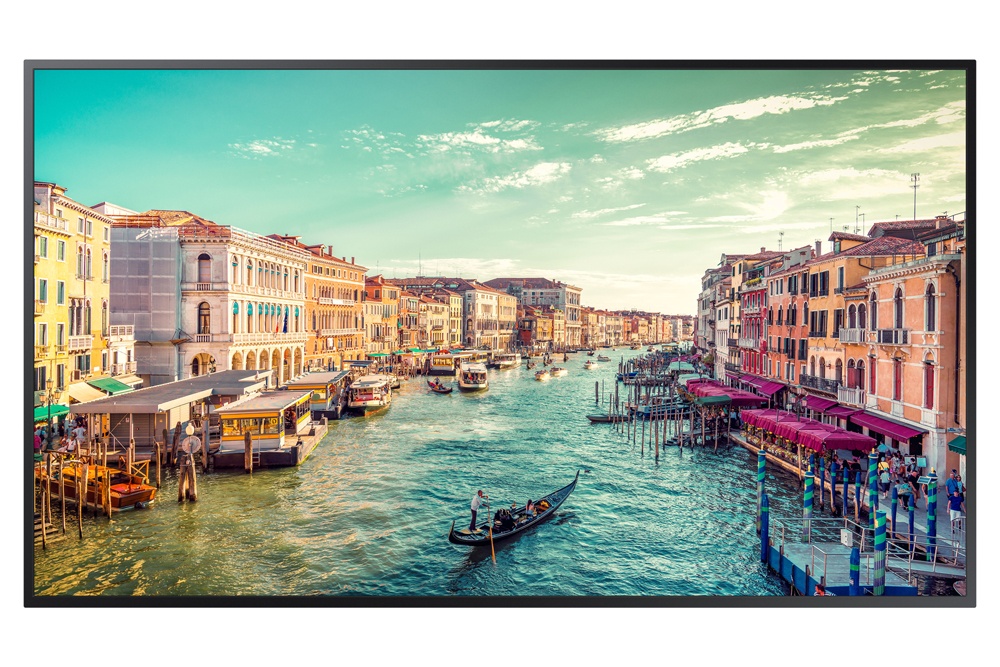 Sorry, this product is no longer available, please contact us for a replacement.
Overview:
Through intelligent UHD upscaling technology, Samsung's QMR series performs edge restoration and noise reduction to deliver UHD picture quality even with lower resolution content. As an added benefi t, the QMR series also features reliable, non-glare panels that provide better visibility from all angles. Backed by Tizen 4.0, the QMR series provides reinforced capability with multiple web formats and secured protection. Additionally, its new slim design simplifi es wall mounting and ensures seamless installation.
Engage customers with lifelike images through ultra high-defi nition resolution
Deliver UHD-level picture quality even with lower resolution content through innovative UHD upscaling technology and unique picture-enhancing features
Dynamic Crystal Color allows viewers to enjoy a wider spectrum of colors, up to one billion shades
New symmetrical, slim design simplifi es installation and complements any environment.
Secure, PC-free operation through Knox and rigid three-layer protection
Reliable, non-glare panels provide better visibility from all angles, anytime of day allowing businesses to deliver accurate information 24/7.
Industry trend
With visual display technology improving across devices, viewers have developed an ever-growing expectation for better picture quality. Additionally, the market has been fl ooded with a wide variety of color techologies and it's becoming increasingly important for businesses to have rich and vivid display capabilities. As UHD resolution continues to grow in popularity, it is essential for businesses to deliver superb picture quality for their customers. Low quality displays and signage can create negative perceptions of a business. While much content is still being produced at a lower resolution, through Intelligent UHD upscaling technology, Samsung's QMR series is able to upscale the low resolution content to UHD picture quality.
Why Samsung's QMR series?
Samsung's superior visual display technology has positioned them as the industry leader in the digital signage market for a decade and Samsung brand having been No.1 in sales for 12 consecutive years in TV by IHS Markit. As an expert in picture quality in the display industry, Samsung is able to deliver best-in-class picture quality through their new QMR series. The signage provides rich and fl awless colors, sleek and durable design, powerful performance through SSSP 6 and secured protection. Its reliable, non-glare panels provide better visibility from all angles, allowing businesses to deliver important information 24/7. Samsung's QMR series is also able to upscale the low resolution content to UHD picture quality. For commercial displays, this technology advancement means highly visible signage with unmatched accuracy to help capture the attention of potential customers. It also means savings both in cost and time for businesses who can produce content more inexpensively at a lower resolution and still display it in stunning UHD quality.
Features:
Incredible 4K picture quality
Samsung's new QMR series is able to capture customer attention by providing an incredibly clear picture, showcasing lifelike images and intricate details better than ever before thanks to ultra high-defi nition 4K resolution.
Perfect view with non-glare display
When clear visibility is essential, the QMR series incorporates key features including up to 500 nit brightness and reliable, non-glare panels that provide better visibility from all angles, anytime of day. The display is ideal for locations such as airports and commuter stations where 24/7 access to clear and accurate information is crucial.
Intelligent UHD upscaling
Samsung's global leadership in display technology and picture quality spans more than a decade. Thanks to superior semi-conductor technology, Samsung has developed the powerful video processor available. Additionally, intelligent UHD upscaling technology is a cutting-edge solution based on Samsung's proprietary UHD Processor that allows content developed at a lower resolution to be elevated to UHD-level quality. It also performs edge restoration and noise reduction to optimize on-screen text and imagery with crisp edges and fi ne detail.
Dynamic Crystal Color
Dynamic Crystal Color is what brings the incredible, lifelike color to Samsung displays. Using 10-bit processing, the displays are able to showcase a wider spectrum of colors — up to a billion different shades — capturing subtle differences for fl awless color expression, critical to businesses in ensuring brand consistency across communication channels. The QMR series also features HDR+ functionality that converts standard definition (SDR) content to HDR quality for sharper contrast and more vivid colors.
Slim and symmetrical design
The all-new slim and symmetrical design of the QMR series signifi - cantly simplifi es wall mounting the display and ensures installation is a seamless process. The display's power inlet direction has been redesigned to sit fl ush against the wall. The new design sets guarantees a long life cycle ensuring the QMR series will stand the test of time.
Clean cable management
In a corporate or retail environment, the back of a display is often visible to customers. With the QMR series' new cable guide feature retailers can tuck messy cables away from view. This allows for a clean and more visually-appealing customer shopping experience.
Samsung Workspace secured by Knox
Samsung Workspace is a powerful new feature fortifi ed by proprietary Knox security technology allowing users to create an enhanced virtual collaboration workspace without needing a PC in the room, or any physical connection. Simply connect a keyboard and mouse to the display and immediately get to work accessing a PC remotely or web-based cloud services such as Microsoft Offi ce 365 and VMWare Horizon.
Powerful, all-in-one solution
The Samsung SMART Signage Platform (SSSP) is an open-source, all-in-one solution embedded in Samsung SMART signage that simplifi es installation and maintenance. With SSSP, there is no need for any external devices to communicate with the server or play digital media enjoying easy development, reinforced capability with multiple web formats, and secured protection.
Wi-Fi and Bluetooth built-in
The QMR series features a nearly endless range of business use-cases thanks to built-in Wi-Fi and Bluetooth. Wireless connectivity allows for personalized and interactive services including enabling integration with beacon technology in store, while also simplifying how businesses showcase content.
Industry standard certified
QMR displays are EMC class B compliant, providing a safe and healthy viewing environment by meeting strict standards of electromagnetic wave emission and assuring reliable operation even near other electronic equipment. The displays are also registered by EPEAT, the global ecolabel for IT, confi rming the hardware is sustainable for the full product lifecycle, from design and production to energy use and recycling.
Specifications:
QM43R

QM49R

QM55R

QM65R

QM75R

Panel

Diagonal Size

Class

43"

49"

55"

65"

75"

Measured

42.5"

48.5"

54.6"

64.5"

74.5"

Type

Edge LED BLU

Edge LED BLU

Edge LED BLU

Edge LED BLU

Edge LED BLU

Resolution

UHD (3840 x 2160)

UHD (3840 x 2160)

UHD (3840 x 2160)

UHD (3840 x 2160)

UHD (3840 x 2160)

Brightness(Typ.)

500

500

500

500

500

Contrast Ratio (Typ.)

4000:1

4000:1

4000:1

4000:1

4000:1

Viewing Angle(H/V)

178 / 178

178 / 178

178 / 178

178 / 178

178 / 178

Response Time (G to G)

8ms (Typ.)

8ms (Typ.)

8ms (Typ.)

8ms (Typ.)

8ms (Typ.)

Display Colors

16.7M (True Display) 1.07B (Dithered 10 Bit)

16.7M (True Display) 1.07B (Dithered 10 Bit)

16.7M (True Display) 1.07B (Dithered 10 Bit)

16.7M (True Display) 1.07B (Dithered 10 Bit)

16.7M (True Display) 1.07B (Dithered 10 Bit)

Color Gamut

92% (DCI-P3, CIE 1976)

92% (DCI-P3, CIE 1976)

92% (DCI-P3, CIE 1976)

92% (DCI-P3, CIE 1976)

92% (DCI-P3, CIE 1976)

Operation Hour

24/7

24/7

24/7

24/7

24/7

Anti-Glare Panel

44%

25%

25%

25%

44%

IP5X Rating

Yes

Yes

Yes

Yes

Yes

Sound

Speaker Type

Built in Speaker (10W + 10W)

Built in Speaker (10W + 10W)

Built in Speaker (10W + 10W)

Built in Speaker (10W + 10W)

Built in Speaker (10W + 10W)

Connectivity

Input

RGB

DVI-D, DisplayPort 1.2 (1)

DVI-D, DisplayPort 1.2 (1)

DVI-D, DisplayPort 1.2 (1)

DVI-D, DisplayPort 1.2 (1)

DVI-D, DisplayPort 1.2 (1)

VIDEO

HDMI 2.0 (2)

HDMI 2.0 (2)

HDMI 2.0 (2)

HDMI 2.0 (2)

HDMI 2.0 (2)

HDCP

HDCP2.2

HDCP2.2

HDCP2.2

HDCP2.2

HDCP2.2

AUDIO

Stereo Mini Jack, DVI, HDMI

Stereo Mini Jack, DVI, HDMI

Stereo Mini Jack, DVI, HDMI

Stereo Mini Jack, DVI, HDMI

Stereo Mini Jack, DVI, HDMI

USB

USB 2.0 x 2

USB 2.0 x 2

USB 2.0 x 2

USB 2.0 x 2

USB 2.0 x 2

Output

RGB

HDMI 2.0 (Loop-out)

HDMI 2.0 (Loop-out)

HDMI 2.0 (Loop-out)

HDMI 2.0 (Loop-out)

HDMI 2.0 (Loop-out)

Audio

Stereo Mini Jack

Stereo Mini Jack

Stereo Mini Jack

Stereo Mini Jack

Stereo Mini Jack

External Control

RS232C (In/Out) thru Stereo Jack, RJ45

RS232C (In/Out) thru Stereo Jack, RJ45

RS232C (In/Out) thru Stereo Jack, RJ45

RS232C (In/Out) thru Stereo Jack, RJ45

RS232C (In/Out) thru Stereo Jack, RJ45

External Sensor

IR

IR

IR

IR

IR

Wi-Fi / Bluetooth

Yes / Yes

Yes / Yes

Yes / Yes

Yes / Yes

Yes / Yes

Power

Type

Internal

Internal

Internal

Internal

Internal

Power Supply

AC 100 - 240 V~ (+/- 10 %), 50/60 Hz

AC 100 - 240 V~ (+/- 10 %), 50/60 Hz

AC 100 - 240 V~ (+/- 10 %), 50/60 Hz

AC 100 - 240 V~ (+/- 10 %), 50/60 Hz

AC 100 - 240 V~ (+/- 10 %), 50/60 Hz

Power Consumption

Max / Typical (W/h)

110 / 74

138 / 103

143 / 108

181.5 / 131

231 / 178

Rating (W/h)

100

125

130

165

210

BTU (Max)

375.1

470.6

487.6

618.9

787.7

Sleep Mode

0.5

0.5

0.5

0.5

0.5

Mechanical

Spec

Dimension (mm / inch)

Set

967.5 x 557.7 x 48.3 /

38.09" x 21.96" x 1.9"

1099.2 x 631.5 x 46.3 /

43.28" x 24.86" x 1.82"

1235.1 x 707.9 x 46.3 /

48.63" x 27.87" x 1.82"

1453.9 x 831.0 x 46.3 /

57.24" x 32.72" x 1.82"

1681.1 x 960.1 x 49.7 /

66.19" x 37.8" x 1.96"

Package

1095 x 676 x 151 / 43.11" x 26.61" x 5.94"

1247 x 772 x 152 / 49.09" x 5.98"

1402 x 858 x 163 / 55.2" x 33.78" x 6.42"

1611 x 973 x 185 / 63.43" x 38.31" x 7.28"

1871 x 1127 x 223 / 73.66" x 44.37" x 8.78"

Weight (kg / lb)

Set

10 kg / 22.05 lb

13.5 kg / 29.76

18.1 kg / 39.9 lb

24.9 kg / 54.9 lb

38.3 kg / 84.44 lb

Package

13.3 kg / 29.32 lb

18 kg / 39.7 lb

23.6 kg / 52.03 lb

33.3 kg / 73.41 lb

49 kg / 108.03 lb

VESA Mount

200 x 200

200 x 200

200 x 200

400 x 400

400 x 400

Bezel Width (Top / Side / Bot) (mm)

9.2mm (U/L/R), 11.2mm (B)

9.2mm (U/L/R), 11.2mm (B)

9.2mm (U/L/R), 11.2mm (B)

9.2mm (U/L/R), 11.2mm (B)

11.5mm (U/L/R), 12.5mm (B)

Operat

ion

Operating Temperature / Humidity

0℃~ 40℃ / 10~80%

0℃~ 40℃ / 10~80%

0℃~ 40℃ / 10~80%

0℃~ 40℃ / 10~80%

0℃~ 40℃ / 10~80%

Features

Key

UHD Signage Display, Slim and Light Signage with Built-in MagicInfo S6, SSSP 6.0

Special

Hardware

Temperature Sensor, Pivot Display, Clock Battery (168 Hrs. Clock Keeping), Built-In Speaker (10W x 2), Video Wall Daisy Chain (HDCP 2.2: 4EA, HDCP 1.4: 7EA), IP5x Rating, Wi-Fi/Bluetooth

Software

Auto Source Switching and Recovery, LFD Home UI, Button Lock, Hot Key Option, Plug and Play (Initial Setting)

Internal Player (Embedded Hardware)

Processor

Cortex A72 1.7GHz Quad-Core CPU

On-Chip Cache Memory

L1 Instruction Cache: 48KB L1 Data Cache: 32KB

L2 Cache: 2MB

Clock Speed

1.7GHz

Main Memory Interface

2.5GB, LPDDR4 1.5GHz 64 Bit

Graphics

Graphic Resolution: 1920 x 1080

Output Resolution: 3840 x 2160 (Scale Up from Graphic Processing Result)

Storage (FDM)

8GB (3.88GB Occupied by O/S, 4.12GB Available)

Multimedia

Video Decoder: MPEG-1/2/4, H.263, H.264/AVC, UHD H.264/AVC, VC-1, AVS+, HEVC, JPEG, PNG, VP8, VP9

Audio Decoder: AC3 (DD), MPEG

IO Ports

USB 2.0

Operating System

Tizen 4.0 (VDLinux)

Certification

Safety

60950-1

EMC

Class A

Environment

ENERGY STAR 7.0 (USA)

Accessories

Included

Quick Setup Guide, Warranty Card, Power Cord, Remote Controller, Batteries

Optional

Stand

STN-L4355F

STN-L4355F

STN-L4355F

N/A

N/A

Mount

WMN4070SE

WMN4070SE

WMN4070SE

WMN4277SE

WMN4277SE, WMN6575SE

Specialty

CML400XK

CML400XK

CML400XK

CLM450K

CLM450K
Pricing Notes:
Pricing and product availability subject to change without notice.
On-site Warranty includes:

Next Business Day exchange of the display
Includes on-site tech-assisted exchange of display
Technician removes original unit, installs replacement, and ships non-working unit to Samsung
Coverage for mechanical/electrical breakdown
3,4,5 year terms available